Create engaging, group-based learning experiences in minutes
Guide and interact with those you are leading more effectively than ever before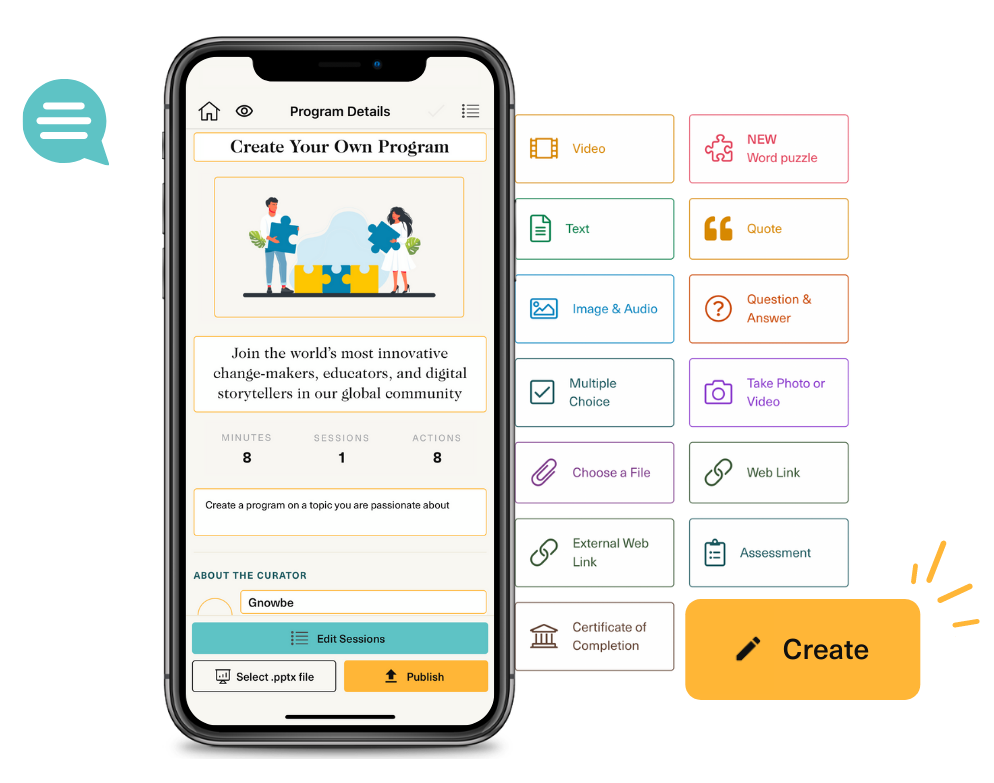 Super-Simple Content Creation
Quickly build attractive, interactive training programs at the touch of a button with our rapid authoring platform, saving you up to 83% in production time
Social Learning Experiences
Strengthen team culture with group-based learning experiences that enable employees to teach and learn from one another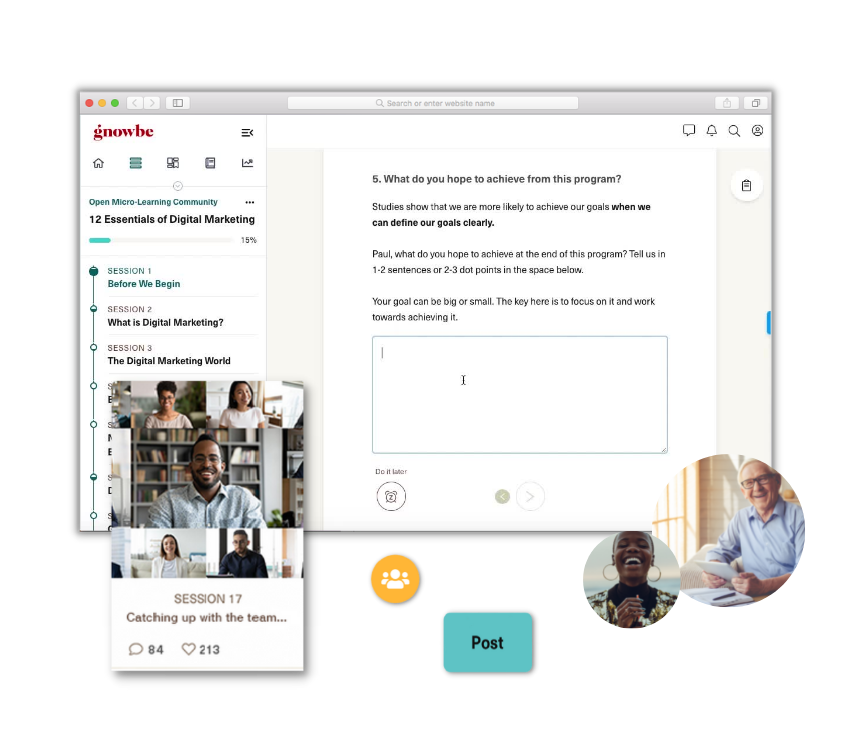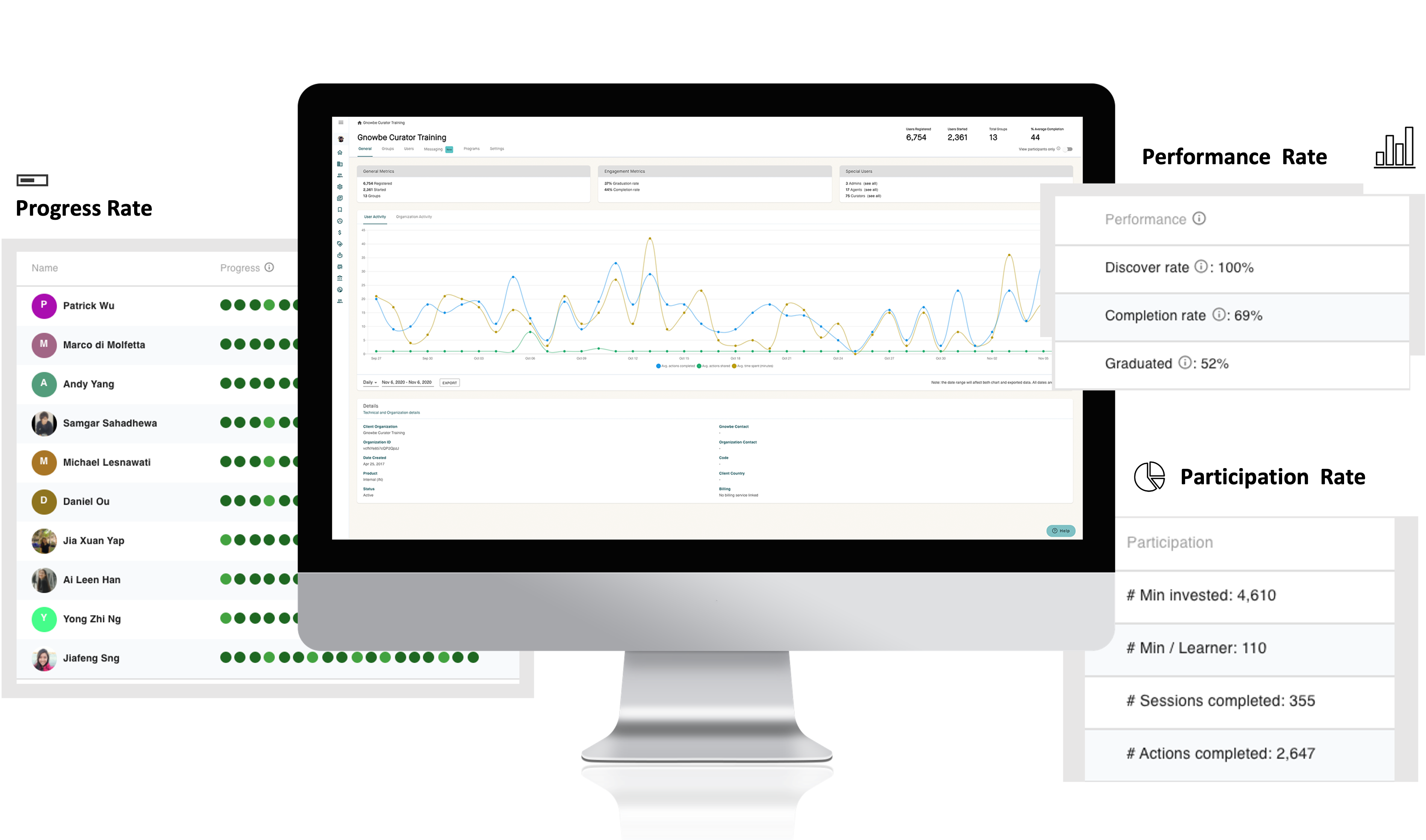 All-in-One Dashboard Management
Transform your business with our learner management and analytics platform, designed to track and evaluate key engagement metrics to give users personalized at-a-glance insights into how their learners are performing.
Create digital learning journeys for...
Join thousands of creators from around the world

"In my work with senior executives, I use Gnowbe to demonstrate I'm a next-level professional with an all-digital, all-interactive experience." - Aneta Key, Aedea Partners


"Gnowbe has helped us create an 'ecosystem' for our coaching training, from the mountains of Nepal to the island of Singapore."
- Mark Dunwoody, Healthy Rhythms Institute

"When I use Gnowbe to create content, I feel like I'm having a dialogue with my learners. It's a great way to deepen engagement with my audience." - Jin Kang Møller, Author of The Simplicity Playbook for Innovators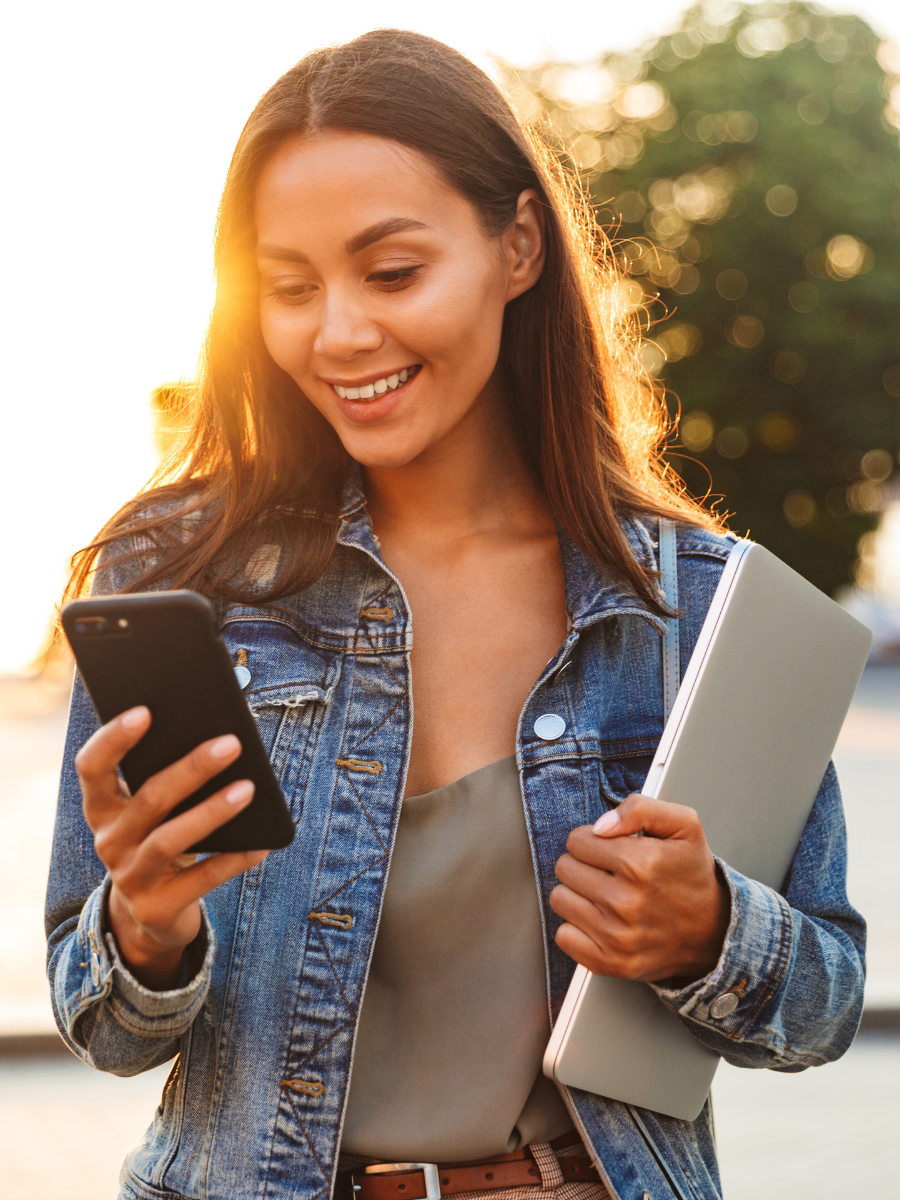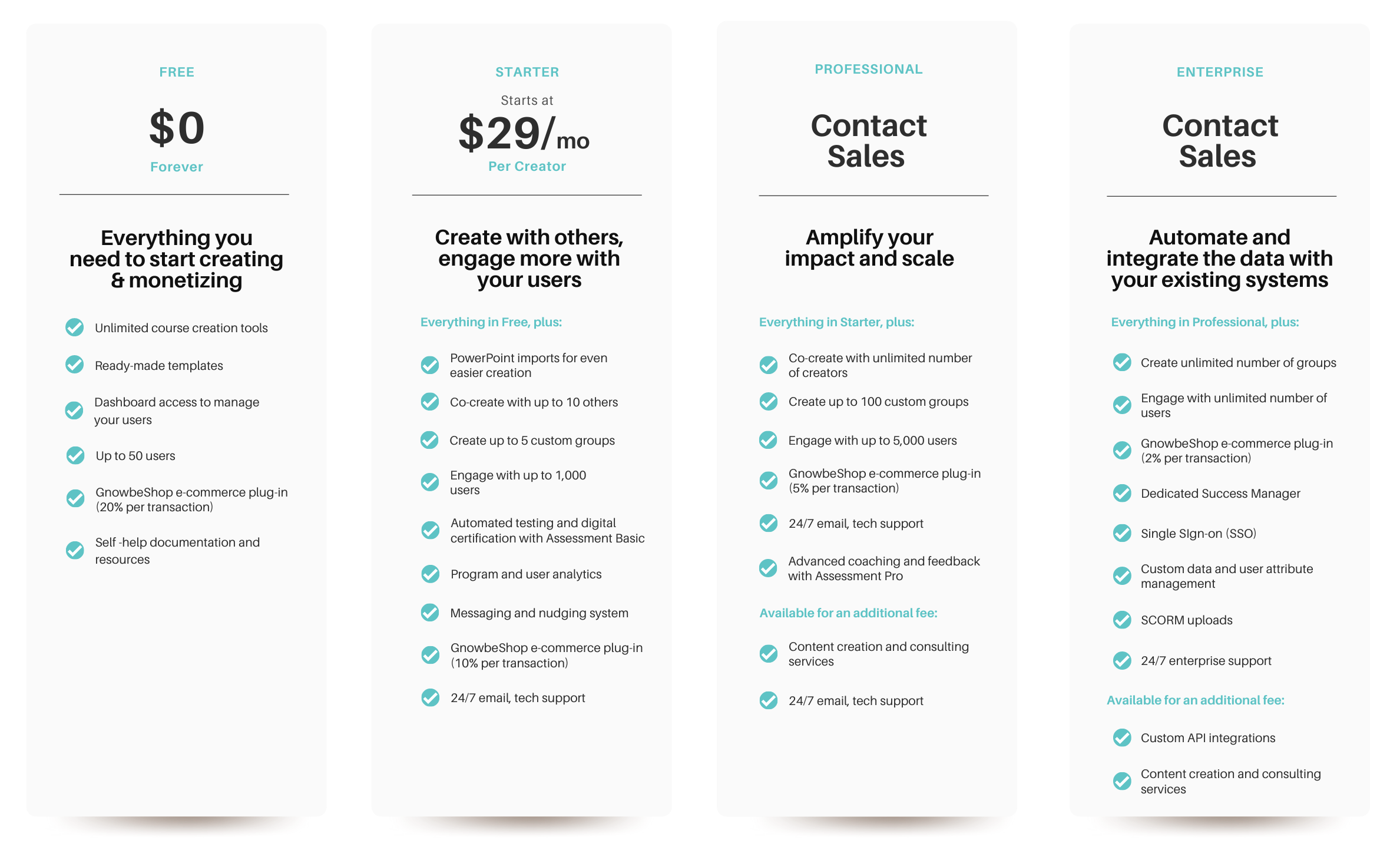 Frequently Asked Questions (FAQs)
Can I use Gnowbe for free? Yes! Gnowbe is free to use by anyone. You can choose to upgrade to Gnowbe Starter, Pro or Enterprise for premium features and content.


Can I use Gnowbe as an individual? Of course. Anyone can gnowbefy content and use Gnowbe Starter or Gnowbe Pro to give you the ability to use messaging and behavioral nudges to increase engagement. You can also automatically import any powerpoint and make it interactive. You can start where you are and we will support you as you grow your impact.


What is the difference between Gnowbe Starter, Gnowbe Pro and Gnowbe Enterprise? Gnowbe Enterprise is ideal for larger organizations, businesses, educational institutions, associations, training companies and teams who need advanced tools to manage larger numbers of users through custom data attributes which enable you to import various data fields for better impact measurement. It also provides greater security controls like SSO and access to a dedicated Success Manager.

Gnowbe Pro is for professionals who need advanced tools to design impactful learning experiences with both quantitative and qualitative assessments linked to certification. Assess Pro is used for project-based assessment or 360 feedback as these qualitative assessments and rubric can be customized.


What is a 'creator'? Creators include anyone who engages with the Gnowbe dashboard to create, distribute, manage and measure performance. These can include admins (those who have admin rights including billing, ability to assign roles and track organization-level performance), agents (right to distribute content and track performance of their groups) and curators (those who curate the programs and content).


Can I invite other co-creators during my trial? You can invite up to 10 co-creators in Gnowbe Starter under your trial period and unlimited numbers within Gnowbe Pro and Gnowbe Enterprise.


What if I work for a nonprofit? We offer special pricing for Gnowbe Pro and Gnowbe Enterprise for non-profits. Contact us here.


What if I am a teacher? Teachers can always use the free version forever. For upgrades, Gnowbe offers special pricing for Gnowbe Pro and Gnowbe Enterprise for teachers. You will need to sign up using your .edu email address. Contact us here.


Will I get charged during my free trial? No. You can try Gnowbe for free for 14 days. To activate your Gnowbe Starter account, you need to enter a credit card. You can cancel at any time during your trial and you won't be charged.


If I add another creator, will they be able to see programs I've curated? Your programs are always private unless you explicitly invite them to get access or share with them as users.